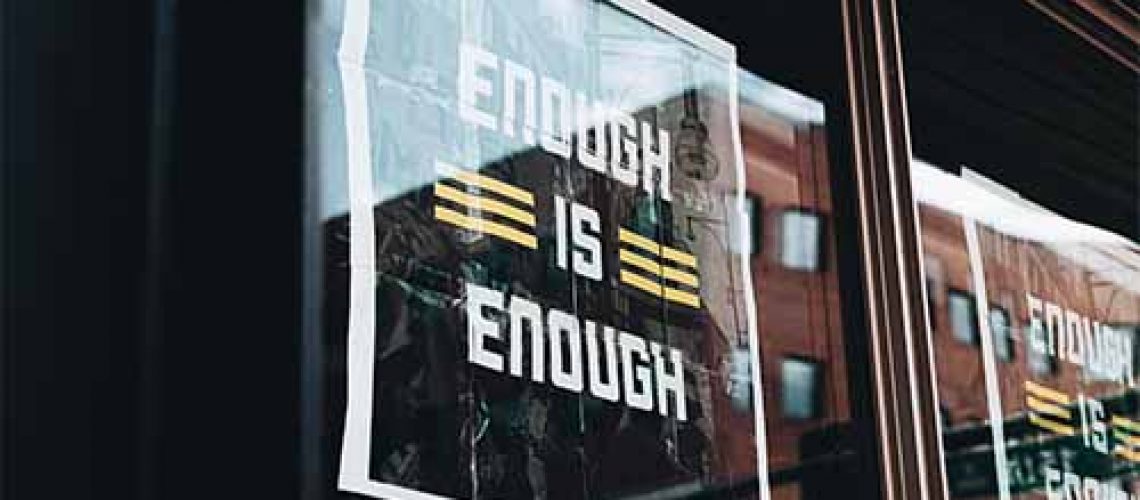 My own throat tightened as I watched not all, but what I could bear, of George Floyd calling out for his mother and for breath under the knee Derek Chauvin.  My body responded to his cries.  It clenched and held my own breath as I cried.  Thank God we are neurologically wired to hear the screams and offer help those in danger. Miles away and through a screen, I desperately wanted to save him. And I felt hatred arise inside seeing that Chauvin did not. 

The days that followed pierced me. The riots scared me and yet they felt just and necessary to address the callousness of this killing.  I felt captivated and I couldn't turn away from the news and media posts.  But the national news didn't jibe with friends' posts about realities on streets of Minneapolis during the protests.  I was learning so much more about  police brutality and race.  And about organized street violence by White Supremacists.  Something was rotten.  I had to take some kind of action.
---
I was gripped by the slow dawning that for decades I'd been complacent and complicit in racism.  I wasn't an active racist.  But I also wasn't an active anti-racist.  It pained me to see this.  And was necessary.
---

I branched and listened to more podcasts and conversations by Black scholars, writers, and leaders.  I was shaken to discover wide swaths of history and commentary I'd never heard before. [Or never absorbed before].  I identify as a life-long, sympathetic liberal committed to justice.  I was gripped by the slow dawning that for decades I'd been complacent and complicit in racism. I had the right attitudes but I had stayed in well-defined comfort zones.  I'd done very little that was uncomfortable to end any kind of injustice.  This I could change.  


I have been committed for nearly two decades to a deep kindness practice; not doormat kindness or surface kindness but actions of respect for everyone.  It's a version of kindness that Martin Luther King might include in his vision beloved community.  It rests solidly on the philosophies of nonviolence.  I knew this would be part of what I could offer.  I am a psychologist trained to work with interpersonal dynamics.  And that would be my starting place. 
As I opened and learned, I wondered, "Would I have confronted Chauvin or screamed out if I had been in the crowd in Minneapolis as George Floyd lay pinned?  What would I have done to help? What good would my kindness have done there?"  
Before these events, I would have called myself a good ally.  I'd volunteered a little, given a some money to BLM, carried signs, and read my books. I have many relationships with non-white folks that I treasure and value.  I saw that these were good things, but not enough to save George Floyd or others like him who have been killed.  It was sinking in as people like  Resmaa Menakem and Layla Saad and Ibram Kendi "THAT is not enough". 
The more I listened and read outside my familiar sources, the more I realized I'd been educated, shaped, and risen to success in a system crafted by white voices.  I was playing my part, as I'd been taught.  I began seeing myself through a different lens, a lens that called me to do more.  
In the days after George Floyd's murder, I was integrating the feelings, words, and events of the past few days.  My mind replayed the voices: George Floyd pleading, "I can't breathe." Killer Mike, trembling and teary, "I'm tired of seeing Black men die … It is the responsibility of us to make this better."  Ever fierce, Keisha Lance Bottoms, "I'm a mother and when I saw the murder of George Floyd, I hurt the way that a mother would hurt."  The overflowing streets, the fists, the flames, the young and the old faces all asking for reform.
I held the urgency  I made  a commitment – a commitment to live the rest of my life to speak, act, challenge, see, the everyday acts of de-humanization and harm, all around me.  I decided I would do my best not turn from what I needed to do to move out of my comfort zone and help in ways that I can.
Some of this is new for me.  Some of it I've been writing and talking about for years. I want to write and explore important questions — learn as I go.     The way I see it, my questions and these chronicles are part of what I can offer to help.  At least I hope so.
Jamie is a psychologist, mindfulness teacher, college professor & writer.  She is dedicated to healing, truth, and creating a just and inclusive world.
Her blog, Kindness Redefined, chronicles her exploration of deep versions of kindness & respect as a lens on  power, social inequity, & mindfulness.