---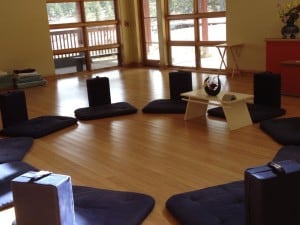 Mindfulness become increasingly important and desired in American mainstream culture over the last 15 years.  A Google search of 'mindfulness' created 40,000,000 results.  That is a lot of talk about mindfulness!
So what is mindfulness?  There are plenty of good formal definitions that exist but I'll share that I use in my teaching "Mindfulness involves training our minds to steady while engaging our hearts to be tender, yet strong".  Essentially we are learning to relate to ourselves and our lives in fresh ways that are enlivening.
Why might you want to begin a mindfulness practice?  Well, first of all, each of us decides if the benefits of a practice are worth the effort required to build and sustain it.  This question is personal and each of us has to discover when, how, and which practices are right for us.  That said, the research is accumulating to show that a steady mind and a tender heart have many practical benefits.  Here is a list of 12 possible ways you might benefit:
1. Mindfulness lowers stress — truly.  When you steady the mind, your body can relax.

2. It lets us get to know our true selves. Mindfulness can help us illuminate our "blind spots".
3. It improves grades. Research discovered improved scores on classroom tests and on standardized tests like the GRE.
4. It helps the brain's "emotional volume knob." It helps the brain to be less reactive to experiences of pain and upset according to a study in the journal Frontiers in Human Neuroscience.
5. It makes music more fun. Mindfulness helps us to deeply enjoy and savor music we are listening to, according to a study in the journal Psychology of Music. [and the same applies to all sense experiences such as eating, walking in nature, drinking tea, showering, even having sex.]
6. It makes us better at what we do. Research from the University of Rochester Medical Center shows that doctors who are trained in mindfulness meditation are less judgmental, more self-aware and better listeners when it comes to interacting with patients.  Athletes, police officers, prison guards, teachers, elementary, high school, and college students, and lawyers all perform better after meditation.
7. It makes you a better person. It can benefit our relationships, as we become more patient and compassionate. Researchers from Northeastern and Harvard universities found that meditation is linked with more virtuous, wholesome behavior with other people.
8. It could make your health care bill a little lower. Not only will your health benefit from mindfulness meditation training, but your wallet might, too. Research in the American Journal of Health Promotion shows that  meditation is linked with lower yearly doctor costs.  And, researchers from the University of Wisconsin School of Medicine and Health found that people who engage in the practices miss fewer days of work from colds and flu, and also experience a shortened duration and severity of symptoms.
9. It  lowers depression and anxiety risk. Teaching meditation can reduce the experience of stress, anxiety and depression, according to a study from the University of Leuven.
10. It supports your weight-loss goals. Trying to shed a few pounds to get to a healthier weight? Mindfulness could be your best friend because mindful eating means making better choices.
11. It helps you sleep better. Last but not least! A University of Utah study found that mindfulness training can not only help us better control our emotions and moods, but it can also help us sleep better at night.
12.  When you overindulge, it can help with hangovers.   This is not based on research but on reports from students in my mindfulness classes.  Mindfulness practice helps with getting through those moments of headache, dry mouth, and lethargy the morning after a night of over indulgence.
---